Today I am giving you a breakdown of how to skateboard for beginners and we are going to start discussing the most basics.
Let's figure out which foot you are going to put forward, this is one of the most important and sometimes the most confusing things for a beginner skateboarder. You are going either to have your left foot forward or right foot forward. Some trainers ask their students that if they are going to run and slide on a sheet of ice or run and slide on something slippery, which foot would you put forward.
It's very important to figure out early on because you can get confused with having the wrong foot forward and then just having a lot of trouble learning how to push. So spend enough time to sort that out properly. So let's discuss some basic techniques for how to skateboard.
1. Pushing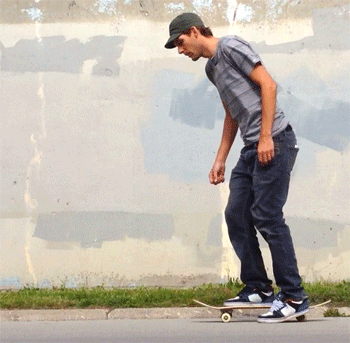 Many people ask from trainers or take tutorials on how to push a skateboard in the right manner. So there are only a few main concepts that you want to have down when you're learning how to push really well but I would say that the most important one is getting your weight distribution down.
A) Basically, you want to keep all of your waits on your front foot near the center of the board.
B) If you feel comfortable from this step, you can easily stand and balance on your front foot.
C) And the only time that your weight should slightly shift to your other foot is when you are actually putting it down to push.
Note: Just keep in mind that you don't ever want to transfer all of your weight into the pushing foot because it's gonna be a lot harder to keep your momentum and to keep your skateboard going straight.
2. Picking Up Board
Now there are plenty of ways to pick up your skateboard. Learning how to pick up your board is just the easiest and most efficient way to go about things. Add on, there is a slight bit of board control and coordination.
Types of Pickups
1. Regular pick up
2. Nose pick up
3. Ollie pick up
4. Impossible pick up
5. Kick up pick up
6. Cool guy Pick up
7. Wall bounce pick up
8. Flip-up
A regular old pick up technique:
a) put your foot pretty much in the center of the tail facing forward.
b) And then you are just gonna pop the tail straight down and just make sure, your back foot is out of the way. And you don't keep it on the tail.
Practice that a few times and make sure you're not hitting the tail too hard or too light
c) Next step would just be to hold your hand out with your palm facing upward and then you just pop the tail down.
d) And as the nose comes up and around, you just grab it and hold on.
3. Throwing Down
This is the best way to get speed really fast without having to start from a dead stop. This one is a pretty simple concept but some beginners have trouble in getting the coordination between throwing the board down and jumping on it. But the good thing about this one is, it's easy enough to start while standing still and then slowly taking a few steps into it. And eventually bringing it up to where you can run and jump into it. Once you get this one down, you will probably notice that you are using it every single time, you go to get on your skateboard.
Note: Just make sure that when you throw you throw it down, you are throwing it slightly ahead of your front foot and then stepping forward onto the board.
4. Getting Up Curbs
Now, this trick is just an Ollie. The only difference is you are going up a curb instead of doing it on a flat. So the worst thing about cruising around could be that once you hit a curb, you have to stop get off your board. Put it on to the curb and then continue skating and the best to do this is to learn the six-inch Ollie up the curb.
I would say that the only requisite to learn an Ollie would be knowing how to ride and control your board comfortably. Because bouncing and shifting weight is a bit part of doing tricks especially in the Ollie.
Also, you should be comfortable going from the normal standing on your board position to leaning your weight onto your back foot and touching your tail to the ground. It might even be helpful if you can do the same motion but towards the nose of the because this helps you with the whole shifting your weight and balancing. Set for your back foot but your front foot has some leeway as for where it can be placed on the board.
You want to put your back foot on the tail and front foot anywhere between halfway and on top of the bolts. Also, you should be standing on the balls of both of your feet with your weight mainly towards your big toes.
1. So the first part of an Ollie is simultaneously pushing your back foot down as hard as you can.
2. Along with snapping the tail against the ground and jumping upwards off of your back foot.
You can practice this motion by pushing your back foot down and letting the tail of the board hit the ground and make that snap noise. The other part of an Ollie is the front foot motion. The front foot acts as a guide for the board and it's what will eventually level out your Ollie's in the air.
Note: Your front foot should start by letting off its weight on the board so that when you push the tail down with your back foot, it knows that the board goes upward. But when the front of the board starts to lift, you quickly want your foot to slide upwards towards the nose. This is probably the hardest motion to coordinate when learning how to Ollie and most of the time it just takes a lot of trial and error until you get the timing and muscle memory down.
5. Ridding Off A Curb Or Going Down Curb
It's honestly one of the first that you will learn in skateboarding, and it's vital to get down.
a) The first step of riding off a curb is simply just being able to hold the front of your board up.
Note: You should do this first otherwise nose is going to hit the ground and you are gonna fall forward.
b) You should keep your eyes on the edge as you are approaching the ground and where you are going to land. So you can lift just enough.
Just to keep your board level in the air, you will drop off the land on all four wheels and then roll away smooth.
Also Visit: