Hey guys, Today we will discuss a legendary and comedy cartoon character whose name is Shin Chan. We will also discuss about shin chan real story. Every child to every aged person knows about the crayon Shin chan because Shinchan is realistic Japanese cartoon series which is illustrated and written by Yoshito Usui. This comedy TV series's name is Crayon Shinchan. The Japanese series has been dubbed in 25 different languages and aired in 45 different countries.
Shinchan Nohara
Shinchan Nohara is a 5 years old boy lives with his parents in the small town of Toyko. Shinchan's favorite television character is Action Kamen and Quantum Robot. He loves to play or buy the new toys of Action Kamen. He always disturbs his mom in the home, teachers in school, and other people in his surrounding. His favourite snacks is Choco chips. Shinchan dislikes eating capsicum.
Hiroshi Nohara (Father of Shinchan)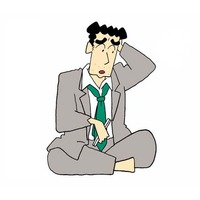 The name of Shinchan's father is Hiroshi Nohara and his short name is Harry. Hiroshi Nohara comes from Akita which is in Northern Japan and he is the sole source of his family income. He is a very kind hearted and loving father of their two children. He loves to drink juice for relaxation.
Misae Nohara (Mother of Shinchan)
The name of Shinchan's mother is Misae Nohara. She is a housewife and a very bold and beautiful lady and also a very caring mom. Misae loves shopping, especially on the sale day. She always tells people that her age number is five or six below her real age. And as you know, she shouts at shin chan many times because of his naughty behaviour.
Himawari Nohara (Little Sister of Shin chan)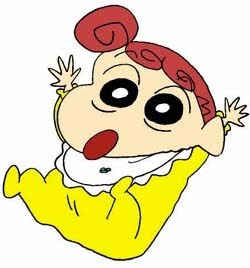 The name of Shinchan's sister is Himawari Nohara. She was born in the year 1996. She looks very cute in real as well as in the cartoon. Himawari loves shining things like diamonds and other jewels. She likes handsome young people. She copies her mom in her completely difficult quest for attractive young people who grab her eye, much the same as her brother, who before long found that a way to conciliate her was to put on a cutout mask of a known attractive and handsome actor.
Pet Dog Shiro
Nohara family has a little dog pet whose name is Shiro. Shiro is a very smart and intelligent dog who lives in his small pet house which is present in the garden of the Nohara family house.
Shinchan Friends & School
Shinchan was in a play school and he has four lovely friends whose names are Toru Kazama, Bo Suzuki, Nani chan and Masao.
Shin Chan Real Story
The truth behind the real story of our favorite character shin chan is very sad and emotional. Generally, the Shinchan character is famous for comedy and entertainment but after knowing the shin chan real story, your eyes will moist. This story started in Japan in the year 1970, A beautiful family lives in japan named Nohara Family to whom we have already introduced you. Shinchan was very naughty since his childhood. He never do his homework and always disturb his teachers. But he loves his sister Himawari and his pet Shiro Nohara. Whenever Hiroshi and Misae Nohara go out, more of the cases they left their children in the home.
But a day came when Hiroshi Nohara went to some important office work to another city. But in the evening time, Shinchan's mother Misae has remembered that there are limitations of some important things especially food. The weather conditions were also very bad, it was raining outside with a storm. She thought that if she left her children in the home then there can be a problem caused because of bad weather.
Then she decided that she will go to the market with her two children. She had thought that they will come back home in 2 hours. When they reached the shopping mall then the rain outside stops. Misae looks very busy shopping and tells shin chan to take care of Himawari. But suddenly shinchan looks at his sister who is present in the middle of the road during playing. The cars on the road were running very fast. Shinchan speaks loudly to Himawari to come back to him.
But Himawari does not hear the voice of his brother. Then suddenly shinchan sees a very fast running truck is coming. Shinchan tries to catch Himawari and try to escape her from the truck by running fast. But there was a big accident that had happened with both, the truck brutely hit the shin chan and his sister and both died there. Misae gets very sad or even she totally breaks. When Hiroshi hears about this accident, the Hiroshi get disturbed and sad well. After that, Hiroshi and Misae didn't talked for many days.
What happens when Yoshito Usui got this sad news of the Nohara family
Misae was feeling very depressed and she had written a book. In that book, she made pictures of her children and wrote very beautiful old memories. After 10 years, a cartoon character name Yoshito Usui got this sad news of the Nohara family. Then he decided to make spread the shin chan name all over the world by making a television cartoon series name Crayon Shin-chan.
And the last episode of the shin chan cartoon has not released because the children get disturbed with the last accident episode. So this is all about the shin chan real story. When the whole world get to know about the real story of shin chan and they love him more and more. The shin chan characters become a legendary cartoon which is then, now, and forever.
List of the Movies of Crayon Shinchan:
Crayon Shin-chan: Action Kamen Vs Leotard Devil (24 July 1993)
Crayon Shin-chan: The Hidden Treasure of Buri Buri Kingdom (23 April 1994)
Crayon Shin-chan: Unkokusai's Ambition (15 April 1995)
Crayon Shin chan: Great Adventure in Henderland (13 April 1996)
Crayon Shin chan: Pursuit of Balls of the darkness (19 April 1997)
Crayon Shin chan: Blitzkrieg! Pig's hoof's secret mission (18 April 1998)
Crayon Shinchan: Explosion! The Hot Spring's Feel Good Final Battle (17 April 1999)
Crayon Shinchan: Jungle That Invites Storm (22 April 2000)
Crayon Shinchan: Fierceness That Invites Storm! The Adult Empire Strikes Back ( 21 April 2001)
Crayon Shinchan: Fierceness That Invites Storm! The Battle of the Warring States (20 April 2002)
Crayon Shinchan: Fierceness That Invites Storm! Yakiniku Road of Honor (19 April 2003)
Crayon Shinchan: Fierceness That Invites Storm! The Kasukabe Boys of the Evening Sun (17 April 2004)
Crayon Shinchan: The Legend Called Buri Buri 3 Minutes Charge (16 April 2005)
Crayon Shinchan: The Legend Called: Dance! Amigo! (15 April 2006)
Crayon Shinchan: Fierceness That Invites Storm! The Singing Buttocks Bomb (21 April 2007)
Crayon Shinchan: Fierceness That Invites Storm! The Hero of Kinpoko (19 April 2008)
Crayon Shinchan: Roar! Kasukabe Wild Kingdom (18 April 2008)
Crayon Shinchan: Super-Dimension! The Storm Called My Bride (17 April 2010)
Crayon Shinchan: Fierceness That Invites Storm! Operation Golden Spy (16 April 2011)
Crayon Shinchan: Me and the Space Princess (14 April 2012)
Crayon Shinchan: Very Tasty! B-class Gourmet Survival!! (20 April 2013
Crayon Shinchan: Robo Dad Strikes Back (19 April 2014)
Crayon Shinchan: Cactus Large Attack! (18 April 2015)
Crayon Shinchan: The Great Assault on Dreamy World! (16 April 2016)
Crayon Shinchan: Alien Shiriri (15 April 2017)
Crayon Shinchan: Kung Fu Boys ~Ramen Rebellion ( 13 April 2018)
Crayon Shinchan: The Lost Hiroshi (19 April 2019)
Crayon Shinchan: The Graffiti Kingdom and Nearly Four Heroes (11 September 2019)
Crayon Shinchan: The Flowers of Tenkazu Academy (23 April 2021).
This was all about the crayon shin chan real story.